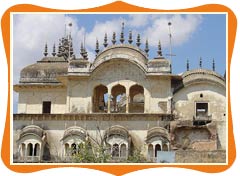 Nestled in the Aravalli Hills, Alwar is one of the oldest cities in Rajasthan. Viratnagar and areas around Alwar have footprints of Stone Age men who lived in caves and drew sketches of animals on the walls. These prehistoric sites are an archaeologist's dream because of their cultural and archaeological importance. The outskirts of Alwar are covered by tropical dry, deciduous forests. The place is affluent with natural heritage with some stunning lakes and picturesque valleys thickly wooded in parts. The horizon is dominated by Bala Quila, a picturesque fort built on a steep hill. It's the finest settlement of a large variety of birds and animals. Alwar hosts one of the finest wildlife sanctuaries in Rajasthan-Sariska, popularly known as an excellent tiger realm. The Sariska Palace and Silliserh were built amidst nature as leisure places for kings when they went hunting.
Alwar, popularly known as "The Tiger Gate of Rajasthan", is an architectural delight. As the place is snuggled between the Aravalli Hills, the hills provided protection from attacks and invasions. Perched on the most prominent of these hills is a massive ancient fort of Bala Quila that whispers tales of the rich history of the city. The city of Alwar was formerly known as Mewar and is located near the imperial city of Delhi which made it a seat of power for many dynasties. At one time, Alwar was the ancient Rajput state and people of the state did not accept any external interference and daringly resisted against foreign invasions. Maharaja Pratap Singh, a Kuchhwaha Rajput belonging to the clan of Jaipur's rulers, won back Alwar and founded a principality of his own. Alwar has been a witness to numerous invasions, but the people of this city have fought alien rulers with an iron hand; thus, it has earned the epithet of being the "Tiger Gate of Rajasthan".
One can find the city adorned with numerous forts, palaces, and temples. The City Palace, Alwar Fort, Sariska Palace, Neemrana Fort, Mughal Gumbad, and Moosi Rani ki Chattri are all reminiscent of the rich cultural past of the city of Alwar and its architectural marvels. Apart from its long history, the city has a rich natural heritage with some beautiful lakes and picturesque valleys thickly wooded in parts which makes it a traveler's delight. The dry deciduous forests of Sariska are a haven for tigers, cheetal, sambhar, nilgai, wild boar, and four-horned antelope. In and around the city of Alwar, one can also find large number of avifauna population that is a treat to the eyes. Alwar is a paradise for people of all ages as it offers something or the other which appeals to every age group.