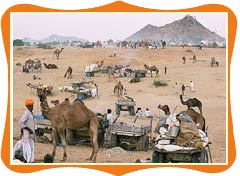 The sacred city of Pushkar is a principal pilgrimage site of Hindus and is referred to as the Tirath Raj or King of Pilgrimages. The city, which houses the only temple of Brahma - the creator, in the world, is thronged by innumerable devotees every year. The tranquil holy town of Pushkar is famous for its 400 Hindu temples. The city of Pushkar is a famous tourist destination for its scenic beauty, engulfed by hills on three sides, desert on one side, and a lake in the heart, presenting a beautiful masterpiece of God's creation. This mystical town extends its hospitality to people coming from across the globe to enrich them spiritually.
Pushkar literally means born out of a flower. There are numerous legends associated with the origin of the city of Pushkar. It is believed that where the petals of Lord Brahma's lotus flower fell, there emerged the holy city around the Pushkar Lake. Ancient Hindu texts, like the Ramayana and the Mahabharata, corroborate the existence of Pushkar as an ancient city. The holy city also has the honor of housing the Brahma Temple as Brahma was cursed by his consort Saraswati, on marrying a local milkmaid Gayatri, that Brahma would be worshipped nowhere else in the world.
The 52 holy ghats overflow with devout Hindus throughout the year as it is believed that a man's sins are washed by bathing in the holy water of Pushkar Lake. The Brahma Temple, the most popular temple in Pushkar, stands on a high pedestal with marble steps leading up to it. A silver turtle is set on the floor facing the Girbha-griha. Around the turtle, the marble floor is inset with hundreds of silver coins. Peacocks adorn the temple walls as they are supposed to be the vehicle of Lord Brahma's consort, Saraswati. A small image of the milkmaid Gayatri, flanks the four-faced image of Lord Brahma and is called Chaumurti. The sanctuary has silver doors inside a carved marble gateway.
Pushkar is renowned not just for religious reasons but is also a major cultural centre of Rajasthan. The city is flooded with Indian as well as foreign tourists during the much famous Pushkar Fair, held in the months of October or November, on the occasion of Kartik Purnima. Pushkar Fair is one of the largest cattle fairs of Rajasthan where one can witness a host of cultural programmes, like folk dances, music, and puppet shows. The bazaars are filled with numerous Rajasthani handicrafts, metal goods, and textiles. This cultural hub is a must visit for its serene and spiritual atmosphere which gives the travelers peace of mind in this fast pace world.