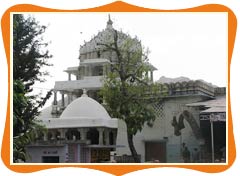 A blooming retreat lying amid plush forested mountains, Mount Abu is known for its scenic beauty and is the lone hill station in the desert state of Rajasthan. The pleasant weather and cool caressing winds of the hill station are simply awe-inspiring, attracting hordes of tourists from all parts of India and the world. The city of Mount Abu is a pilgrim for people of many sects as several temples are found here. The world famous Dilwara Jain temples are situated in this city and are the crowning glory of this hill station. Many hermits and sages have also spent their time in this pristine city; one such saint being Guru Vashisht who performed a yagya here where Gaumukh Temple stands today. This town is also famous for the bounty of nature and is rich in flora and fauna, which make it a paradise for nature lovers.
Mount Abu has many legends attached to it and is mentioned innumerably in both Hindu and Jain religious texts. It is believed that the 24th Jain tirthankara, Lord Mahavira paid a visit to Mount Abu. According to Hindu mythology, the 330 million Hindu gods and goddesses visited the city of Mount Abu. The city derives its name from the mythological figure, Arbud who was a mighty snake and helped Rishi Vashisht fill up the gorge with water to prevent any mishap. Mount Abu is also home to the world famous ashram of Brahmkumaris, a spiritual and religious sect. Apart from being a scenic summer resort, Mount Abu is a famous spot for eternal spirituality boosted by numerous stunning temples and shrines of varied religions present here.
Mount Abu served as the summer capital of most of the Rajput royals. This picturesque hill station even charmed the British with its ultimate natural beauty. This spectacular city houses the highest peak of Aravalis, the Gurushikhara and also boasts of several water bodies and lush green jungles. The dense forests of Mount Abu are quite famous for a wide and amusing variety of orchids, several wild roses and medicinal herbs. Before the increase of human population in Mount Abu, lions were found here till the 19th century and tigers until 1970s. The historic and religious hill station of Mount Abu has a mysterious aura to it which compels a traveler to unravel its mystery over and again.
Dilwara Jain Temples
The example of the most exquisitely carved temples of Rajasthan is, undoubtedly, the Dilwara Jain temples of Mount Abu and probably has no match all over India. These Jain temples are listed among the most beautiful and finest Jain temples worldwide for their extraordinarily impeccable architectural style. Thus, Mount Abu marks the principal place of pilgrimage for Jains in India. Built in marvelous marble, the Dilwara temples were constructed between the 11th and 13th centuries.