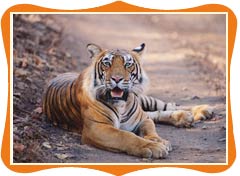 Ranthambore falls under the eastern districts of Rajasthan, namely Sawai Madhopur and Karauli. Once the hunting ground for the royal house of Jaipur, Ranthambhore was declared a game sanctuary in 1955. In 1973, it came under the Project Tiger of India. Ranthambore earned its present 'National Park' status in 1980. Located at the junction of the hill ranges of the Vindhyas and the Aravalis in Rajasthan, the national park sprawls over an area of 1,334 sq km and is a haven for the ferocious and endangered tiger. Ranthambore National Park is regarded as one of the largest and popular tiger reserves in the country.
The town of Ranthambore is perhaps the only place in Rajasthan which gives the visitors diverse shades during its different seasons. During summers, Ranthambhore is completely scorched, while the forest of Ranthambhore is vibrant and luscious green during monsoons and winters. The topography of the park is diverse and boasts of dry deciduous forests, open grassy meadows, and several rivers and lakes. The Great Boundary Fault, caused by the meeting of the Vindhya Plateau and the Aravali Range, is also located here. Therefore, the park offers excellent wildlife and nature photography options.
Not only this, the park also has three marvelous and big lakes - Padam Talab (meaning Lake), Malik Talab, and Raj Bagh which provide flourishing life to the fauna of the park and to the aquatic vegetation like lotus, lilies, and duckweeds, thereby ornamenting and enhancing the beauty of this amazing tiger abode. Chambal River in the north, Banas River in the south, and around six artificial lakes are some other astonishing water bodies in Ranthambore. The national park remains open for tourists, between the months of October and June. Apart from the Royal Bengal Tiger, the park is a haven for a large number of other animals and birds, which fall prey to the tiger.
Sambar deer, chital, nilgai, hyenas, jackals, boars, desert cats, chinkara, small Indian mongoose, and Indian porcupines are some animals spotted in the park. Marsh crocodile, Great Indian python, desert monitor lizard, rat snakes, cobras, and turtles are some reptiles inhabiting the Ranthambhore National Park. Owing to the presence of abundant water bodies in this wildlife park, nearly 272 bird species have been found here, including migratory species as well as native species.
Giving support to all the life-forms in the wildlife sanctuary are the 300 types of vegetation and plants. Dhok (Anogeossis pendula) dominates the vegetation of the region. Tamarind, babul, banyan, mango, ber, dhak or chila, and neem tree are some other vegetation types which contribute to the green cover of the area. Apart from housing a wildlife sanctuary, Ranthambore town also has a 10th century fort, known as the Ranthambhore Fort. The fort, now in ruins, is maintained by Archaeological Survey of India.