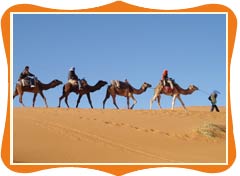 Rajasthan is known for its amazing and picturesque small hills of sand dunes and rustic lifestyle. The arid Thar Desert, or the Great Indian Desert, is the world's seventh largest desert and is located in Western India and Southeastern Pakistan. In Pakistan, the land of golden sand dunes is known as Cholistan Desert. Thar Desert is bounded on the northwest by Sutlej River, on the east by Aravalli Range, on the south by salt marshes known as the Rann of Kutch, and on the west by Indus Valley. Spread across 800 km in length and 490 km in width, three-fifth of the desert lies mostly in the state of Rajasthan, but stretches slightly in states of Gujarat, Punjab, and Haryana as well.
Sand dunes, dune free plains, and the hills are the three principal landforms of the Thar Desert, which are responsible for its alluring landscape. Rainfall is sparse in the region averaging to 127 to 254 mm annually. The sand dunes in the southern desert region stand as high as 152 m, while the northern region has sand dunes as low as 16 m in height. All these characteristics make this Rajasthan desert the onliest and exclusive site to explore. The temperatures in the region are on extreme with summer temperature soaring as high as 53 C and winter months dipping to as low as 10 C or even below. The desert region also has a large number of saline lakes, locally known as dhands.
The diversified topography of the desert region has resulted in a rich flora and fauna at Thar. The rich but sparse vegetation includes tree species, small shrubs, and medicinal herbs. On hills, Gum arabic acacia and euphorbia are easily found while Prosopis cineraria tree can be spotted in the plains. The desert is rich in animal and avian population, in fact, some endangered species of the fauna are found nowhere but in Thar region, like the blackbuck, Indian gazelle, Indian wild ass, and the Great Indian Bustard. Sand grouse, ducks, and geese are among the common migratory birds of the desert. This Rajasthan desert simply displays the abundant and unique diversity of nature dwelling in the scorching heat.
Agriculture and animal-husbandry are the two principal occupations of the region. However, due to sparse rainfall, agriculture takes a back seat and one finds more number of pastoralists in the region. Hide and wool Industries are also famous in the region. There has been an increase in the number of livestock lately which has led to overgrazing and affected the vegetation of the desert. One of the fast growing industries is eco-tourism which invites large number of populace to visit the sun-kissed Thar Desert, enjoy the Camel safari, and witness the heritage of Jaisalmer. These architectural marvels are a true lifetime experience!