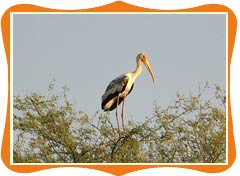 Named after Bharat, the brother of Lord Ram in Ramayana, Bharatpur was founded by Maharaja Surajmal in 1733 AD. The city is set in a region rich in history and is known for the bounty of nature it is affluent in. It also enjoys proximity to Agra, the city of Taj Mahal, which is just 55 km away. The chivalrous Jat ruler, Maharaja Surajmal, made the city impenetrable by the forts and ramparts which stand even today to tell the tales of the glorious past of the city. Maharaja Surajmal took over the reign from Khemkaran, the son of Rustam, to establish an impenetrable empire. He fortified the city by building a colossal wall around the city. He also constructed the Lohagarh Fort or the Iron Fort, which was called so because it remained invincible during the attacks by foreigners. The kings of Bharatpur prayed to Laxman, brother of Lord Ram, who was their family deity and one even finds Laxman's name engraved on state arms and royal seals as well as the temple dedicated to Laxman.
The city of Bharatpur, if not for anything else, is renowned for the world famous Keoladeo Ghana National Park, popularly known as Bharatpur Bird Sanctuary. Bharatpur Bird Sanctuary is the biggest bird sanctuary in Asia. This city is a bird viewers' delight and is immensely rich in avian population which includes not just local species of birds but migratory birds which fly to Bharatpur in the winter months from as far as Siberia, China, Russia, Europe, and Persia. Here, one can find over 375 species of birds which include the Siberian crane, little cormorants, darters, purple and grey herons, various species of egret, white-necked as well as black-necked storks, white ibis, spoonbills, night herons, and many more. Until 1960s, this place was a famous resort for duck hunting and was famous amongst tourists from across the world. The bird sanctuary has now been declared a world heritage site by UNESCO.
Also known as the eastern gateway of Rajasthan, Bharatpur city has many historical tales to narrate to its visitors. The ancient city of Bharatpur was once a part of the Matsya Pradesh which flourished in the 5th century BC. The rulers of Bharatpur enriched it architecturally by building numerous forts and palaces in the region. The Bharatpur Palace, Lohargarh Fort or the Iron Fort, Deeg Palace or the pleasure palace, Ganga and Laxman Mandir stand erect at Bharatpur, all recounting the romance of Bharatpur city which its rulers enjoyed within it. The place is rich in culture along with the high density and availability of natural and scenic beauty.