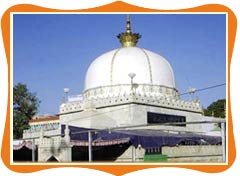 The holy city of Ajmer is enveloped by the Aravali Mountain range, which is the primary reason for the enchanting and serene aura it enjoys. Ajmer has been the home of several dynasties since its inception in the 7th century AD. The city was founded by the great Chauhan ruler, Raja Ajay Pal Chauhan but was lost at the hands of Prithvi Raj Chauhan to Mohammed Ghauri in 1193 AD. The holy city of Ajmer has been a living place for rulers of Delhi Sultanate, the great Mughals, Scindias, and British before it was finally merged into the Indian union at the time of independence. Ajmer is a melting pot of cultures and has been nurtured by all its rulers.
Ajmer city was also the final resting place of the holy Sufi saint, Khwaja Moin-ud-din Chisti. The world famous Dargah Sharif, which houses the mausoleum of the Gharib Nawaz, is situated in Ajmer and almost has become an identity for the city. People from all over the world cutting across faiths come to the city of Ajmer to pay respect to the divine saint. The saint came to Ajmer from Persia and remained here for his lifetime to selflessly serve the poor and downtrodden. The city is also famous for Adhai-din-ka-jhonpra, a beautifully carved mosque which was built in two and a half days (adhai-din), according to legends.
Ajmer is, undoubtedly, a city where syncretic traditions flourished, combining the best of Muslim and Hindu cultures. The British chose the city to open the much famous Mayo College which initially admitted only boys as its students, but has now opened gates for girls as well. To experience the culture, peace, and tranquility that Ajmer offers, it is essential to visit this city of Gharib Nawaz.
Dargah Sharif
Situated at the deserted hill, Dargah Sharif has become the most significant identity for the city of Ajmer. It is one of the country's most prime pilgrimage destinations and lies around 135 km away from Jaipur. The final resting place of the Gharib Nawaz Moin-ud-din Chisti, the dargah is visited by several great people for their belief in the divine powers of the holy saint. The Dargah Sharif at Ajmer is a haven of peace and tranquility and is the answer for people searching for harmony and spirituality.
Kishangarh Fort
Built in 1649 by Maharaja Roop Singh, the enticing fort of Kishangarh is an epitome of the Rajput and Mughal styles of architecture. An excellent showcase of the tremendous glory of both the solemn styles, the fort is also named after its ruler and is popularly called Roopangarh Fort. The fort lies about 27 km away from Ajmer city. The nine turreted fortifications of the fort encompass within it several battlements, jails, granaries, armories, and foundries.