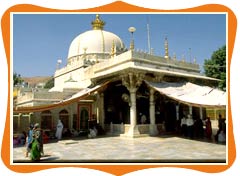 Situated at the deserted hill, Dargah Sharif has become the most significant identity for the city of Ajmer. It is one of the country's most prime pilgrimage destinations and lies around 135 km away from Jaipur. The final resting place of the Gharib Nawaz Moin-ud-din Chisti, the dargah is visited by several great people for their belief in the divine powers of the holy saint. Almost all rulers of Delhi Sultanate, the Mughals, and even the Rajput rulers have come to Dargah Sharif to pay their homage to the Gharib Nawaz. The Khwaja is believed to have come from Persia and settled in Ajmer to serve the mankind throughout his lifetime. He commands respect across the world, cutting across faiths, and has been one of the greatest spiritual redeemers of human sufferings. Beside a large number of Muslims, people of other religions, too, horde at this sacred point to pray for the fulfillment of their wishes.
Khwaja Moinuddin Chisti was a great Sufi saint who arrived in India from Persia in 1192 AD and breathed his last here in 1236 AD. Through his noble teachings and thoughts, the Khwaja touched every soul who came in his path. The shrine's construction was commenced by the Sultan of Delhi, Altamash, and finished by Emperor Humayun. It is believed that the tomb of Khwaja Moin-ud-din Chisti has divine powers and no one returns empty handed from this holy place. Pilgrims flock in large numbers throughout the year but it is during the six days of Urs Festival (the death anniversary of the Khwaja), that there is a heavy flow of devotees in the shrine to seek the blessings of the Gharib Nawaz. Once a simple tomb, the dargah has been extended by several Mughal rulers. The dargah complex now houses several mosques build by Mughal rulers and named after them, apart from magnificent pavilions, courtyards, and gateways.
To enter the dargah, a pilgrim has to pass through the Dargah Bazaar where one can buy colorful chaddars (sheets), soothing incense, and scented oils to offer at the tomb of Gharib Nawaz. The dargah is entered through an exquisitely carved silver door leading to the main inner courtyard. The interred point of the saint is enclosed by a beautiful silver railing and is half-covered using a marble wall. The dargah, today, runs an Arabic and Persian school for Islamic learning within its complex educating young Muslim boys to follow the path of Gharib Nawaz and serve the mankind without any religious bias. Gharib Nawaz has been showering his blessings on the pilgrims for more than eight centuries now. As such, the Dargah Sharif at Ajmer is a haven of peace and tranquility and is the answer for people searching for harmony and spirituality.