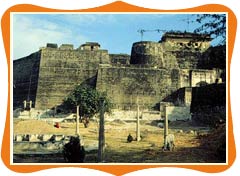 Built in 1649 by Maharaja Roop Singh, the enticing fort of Kishangarh is an epitome of the Rajput and Mughal styles of architecture. An excellent showcase of the tremendous glory of both the solemn styles, the fort is also named after its ruler and is popularly called Roopangarh Fort. The fort lies about 27 km away from Ajmer city. The nine turreted fortifications of the fort encompass within it several battlements, jails, granaries, armories, and foundries. The colossal double storied Durbar Hall has latticed windows above for the queens to view the proceedings below. The fort is enveloped by a deep moated wall which makes it one of the most formidable forts of Rajasthan. The exquisite cravings on the walls and ceilings make Kishangarh Fort one of the most outlandish structures of Ajmer. Rather, the fort is one of the few unconquered forts in Rajput history.
Another structure which offers a magnetic appeal to the fort is the Phool Mahal or the Flower Palace. The palace is a living example of the splendor of the Rathore Rajputs. The walls of the beautiful palace are adorned by striking frescoes and gorgeous murals. This enchanting Phool Mahal is now converted into a heritage hotel. As you further approach Kishangarh Fort, what greets you are the massive beautiful courtyard and eye-catching fountains. You can feel the mirth of spring here, witnessing the inevitable beauty of the same. The panoramic view you are likely to get of the Kishangarh town from the roof of the fort is simply astounding and incredible. One also finds some of the outstanding miniature paintings of the 18th century displayed in the fort. With every step inside the fort, you discover unique, outstanding, and breathtaking art pieces which compel you to fall in love with its magnificent beauty.
The fort has witnessed many patronizing deeds of its rulers towards art, architecture, music, and poetry. Kishangarh Fort has played a pivotal role in enriching the arts and culture of Rajasthan. The Kishangarh School of Art, which produced the Bani Thani style of miniature paintings and is renowned world over, originated here in the 18th century. Many of these beautiful miniature paintings are now on display in the fort. For many art lovers, these paintings are a major draw at the fort. Kishangarh Fort is worth a call when one visits the city of Ajmer. In the vicinity of the, a stunning lake with numerous rare birds thronging with their chirping sweet sound await you. A wondrous ambience to experience! A visit to the spectacular Kishangarh Fort definitely serves as an awesome lifetime memory and hence, attracts a large number of tourists all around the year.