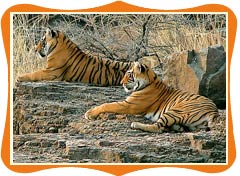 Sariska National Park is amongst the most visited parks of the country because of its easy connectivity with the major towns. Sariska formerly served as the hunting grounds for the Maharaja of Alwar. It is a very small town, covering an area of 866 sq km, and falls in the Alwar district of Rajasthan. This small town is much renowned for its tiger reserve named after it. Sariska has several archaeological sites, such as Garh Rajor Temples, Neelkanth Temple, and Kankwadi Fort. In fact, it was the historic Kankwadi Fort where Aurangzeb imprisoned his elder brother Dara Shikoh, during the much famous battle of succession for the Mughal throne.
The landscape of Sariska is bewitching to a nature lover and includes hills and narrow valleys of the Aravalli ranges. The whole sanctuary cuddles in the laps of nature. The scrub-thorn arid forests and dry deciduous forests of the place make it a perfect haven for tigers and several other animals. The captivating Sariska Tiger Reserve was declared a sanctuary in 1955 and a National Park in 1979. The wildlife here has wonderfully adapted to the ecology of the terrain, as the climate here is varied and erratic. The reserve is open throughout the year, but the best time to travel here and view the game around the water bodies is between the months of October and April.
As the name suggests, the sanctuary is primarily a tiger reserve. However, it is a paradise to various other wildlife species as well. Leopard, wild dog, jungle cat, civets, hyena, and jackal are carnivores in Sariska, which feed on species, such as sambar, chital, nilgai, chausingha, wild boar, and langur. The wildlife park is also known for its large population of rhesus monkeys, which are found around Talvriksh. The avian population of the reserve includes the Great Indian horned owl, sand grouse, bush quail, grey partridge, peafowl, crested serpent eagle, golden backed wood pecker, and tree-pie. One can witness awe-inspiring wildlife and natural beauty sights through their lenses.
The sanctuary also serves a host to the ruins of medieval temples of Garh-Rajor, dating back to the 10th and 11th centuries. One can get a taste of architectural splendor here, by visiting the 17th century Kankwadi Fort. Sariska is also popular for the ancient Neelkanth temples, tracking back to the 6th to 13th centuries. Sariska Palace, built by Maharaja Jai Singh of Alwar, still stands at the place and has now been converted into a heritage hotel. At Sariska Palace, you can find a number of photographs of the hunting expeditions undertaken by the Maharaja and the British in the 1920s. The palace has beautiful well-manicured lawns and even houses some antique furniture. Sariska, thus, provides visitors with both a cultural and an adventurous extravaganza.