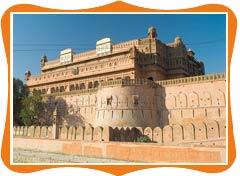 The historic city of Bikaner was founded by the Rathore prince, Rao Bika, in 1488 and is, thus, named after this chivalrous son, Rao Jodha. The city of Bikaner is situated in the arid tract of surging sand dunes which many would not have dared to settle in. The entire city of Bikaner is an exercise in architecture as is reflected in the huge fortifications around the old Bikaner city, the Junagarh Fort, Lalgarh Palace, and Bhandeswari Jain Haveli. Bikaner maintains its medieval age charm but it is indicated by excavations and archaeological surveys that the civilization which flourished in Bikaner dated back to Harappa Civilization.
The most impressive palace of Bikaner, the Lalgarh Palace was built by Maharaja Ganga Singh in 1902 in the memory of his father Maharaja Lal Singh. The imposing red stone structure is an architectural marvel of Rajasthan. The palace is an example of hybrid architecture combining Mughal, Rajput, and European styles. The exterior of the palace recounts the Rajput tale while the interiors of the palace are distinctly oriental. It was under the reign of Maharaja Ganga Singh that the city transformed into a modern city and several hospitals and welfare schemes were launched. It was also under his leadership that the thirsty city of Bikaner got the 'Ganga' canal.
Built in 1593 AD by Raja Rai Singh, Junagarh Fort is one of the rare forts of Rajasthan which is not built on a hilltop. There is a moat encircled around the fort for its defenses. Built in red sandstone and marble, the intricate craft work on the balconies, windows, towers, and courtyards is spell bounding. A museum in the fort displaying jewels, illuminated manuscripts, treaties, royal farmans, jars, carpets etc. provides the visitors an enriching insight into the royal past. Bikaner is also famous as the camel country of India as it is a place where one can find the best camel breeds. What's more, the city boasts of one of the biggest camel research farms and breeding centers.
At Bikaner, one can also experience its culture and hospitality at the religious Karni Mata Fair which is held twice a year during Navrartras. For the adventurous lot, a safari to the Thar Desert or a visit to the Gajner Wildlife Sanctuary is a must. The city of Bikaner is famous all over the country and beyond for two kinds of salty mixtures, namely, dal moth and bhujia. The Usta art is the crowning glory of Bikaner which flourished here under the patronage of the rulers of Bikaner. This art form is characterized by miniature paintings and gold embossing done on wood, ivory, glass, and marble, but in Bikaner, it is generally executed on pieces of camel hide which are famous worldwide.