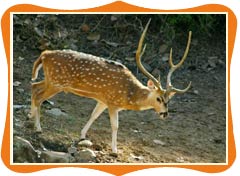 Rajasthan has a varied topography, on one hand stands the country's oldest mountain range the Aravalis, the reason for the rocky terrain, the Thar Desert, and on the other hand, there are lush green forests and fresh water wetlands. This kind of topography makes Rajasthan a perfect place for diverse flora and fauna. A large number of animals and birds take to living here because of the unpredictable environmental conditions. The dry deciduous forests of Aravalis and wetlands of Bharatpur serve as home to a large number of rare species of birds and animals. Rajasthan is also a haven for some of the endangered species, like the tiger and Blackbuck. For people, who love and appreciate gifts of nature, it is imperative for them to make a sojourn here. One can plan several wildlife tours and enjoy the bounty of nature through a jeep ride or camel and elephant safari. The large number of wildlife sanctuaries and eco-tourism parks make a call to all nature enthusiasts. Scroll down to get firsthand information about the wildlife of Rajasthan.
Desert National Park (Jaisalmer)
Desert National Park of Jaisalmer is a true reflection of the ecosystem and flora and fauna of the Thar Desert. Founded in 1980, it is spread over an area of 3150 sq km and is probably the largest park in India. Due to a minimal leaf cover, the Desert Park supports less of herbivorous animals, camels being an exception to this.
Ranthambore National Park
The origin of Ranthambore Wildlife Reserve dates back to 1957, but it was in 1981 that the reserve got its present National Park status. The topography of the park is also diverse which boasts of dry deciduous forests, open grassy meadows, and several rivers and lakes.
Sariska Tiger Reserve
This tiger reserve of Rajasthan is spread across 800 sq km approximately and has topography more or less similar to that of Ranthambore. The reserve got its present National Park status in 1979 and became a part of Project Tiger.
Bharatpur Bird Sanctuary
The Keoladeo Ghana National Park, situated at Bharatpur, is popularly known as Bharatpur Bird Sanctuary. This world renowned haven for birds had paradoxically been created in 1850 as a duck shooting ground for Maharaja Suraj Mal of Bharatpur. The shallow wetland created by reserving monsoon water in the depression, caused by the confluence of River Gambhir and River Banganga, turned it into a perfect habitat for a large number of birds. It is a haven for over 364 varieties of birds and is one of the most important breeding and feed grounds for birds. In 1982, it got the status of a National Park and in 1985, it was declared a World Heritage site by UNESCO.
The park is open throughout the year from sunrise to sunset; however, the best time to visit the sanctuary is during winters since one can find migratory birds flocking from places, like China, Siberia, Turkmenistan, and Afghanistan. Kingfishers, eagles, vulture, storks, white and black necked storks, gappy bills, egrets, herons, and exotic and rare birds like Siberian crane, pelicans, Indian darters, wagtails, robins, and mynahs are commonly sighted here. Though it is principally a bird sanctuary, one can also find animals like sambar, deer, blue bulls, jackals, jungle cats, mongoose, blackbucks, and pythons.
Tal Chapper Sanctuary
Tal Chapper Sanctuary lies in the Sujangarh Tehsil of Churu District, situated in the North-eastern part of Rajasthan. It is located on the fringe of the Great Indian Thar Desert and is a haven to one of the rarest species of antelope, the blackbuck. The shallow low lying area and flat tracts, along with small seasonal water ponds, act as a perfect abode to the blackbucks. The sanctuary is nearly 215 km away from Jaipur.
Darrah Sanctuary
Spread over an area of about 250 sq km, the Darrah Sanctuary happens to be the erstwhile hunting grounds of the Maharajas of Kota. Situated about 50 km away from Kota, the sanctuary remains closed between the monsoon months of July through September. Nature lovers can throng the sanctuary between February and May. The hill sanctuary is covered with dense forests, including some rare medicinal herbs and trees. Sloth bear, chinkara, leopard, and tiger are the animals which inhabit this sanctuary.
Kumbhalgarh Sanctuary
Kumbhalgarh Sanctuary encompasses an area of about 578 sq km and is located in the districts of Udaipur, Pali, and Rajsamand, encircled by the majestic Aravali Hills. The sanctuary derives its name from the impressive historical fort of Kumbhalgarh situated here. This sanctuary, too, is a dwelling for numerous animals, such as the chaisingh (four horned antelope), chinkara, sloth bear, sambar, nilgai, hare, leopard, and hyena. The avian population comprises of the grey jungle fowl, peacocks, dove, mynahs, golden oriole, parakeets, white breasted kingfisher, and red spur owls.
Mount Abu Sanctuary
The only hill station of Rajasthan, Mount Abu is rich in floral and faunal biodiversity. It got its current wildlife sanctuary status in 1960. The sub-tropical thorn and sub-tropical evergreen forests consist of 112 kinds of plant families and 820 species. One could spot lions in the jungles of Mt. Abu in the 19th century, while tigers were spotted as late as in the 1970s. The panther has now been declared an endangered species here. The population of sloth bear, however, has been on the rise. Other animals which are found here include hyenas, langurs, civets, jackals, porcupine, hedgehogs, hare, and sambar.