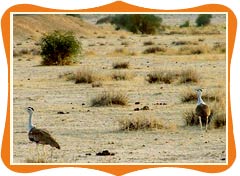 Desert National Park lies in the Thar Desert of Rajasthan, which is also known as the 'Ocean of Sands'. Even though it is generally considered that deserts cannot support a varied flora and fauna, Thar Desert presents an exception by supporting a unique and diverse wildlife species. The Desert National Park of Jaisalmer is a true reflection of the fragile ecosystem and diverse flora and fauna of the Thar Desert. This national park, founded in 1980, is spread across 3150 sq km and is probably the largest park of India. Due to a minimal leaf cover and vegetation, the Desert National Park can support only few herbivorous animals, including camels. The topography of the park also includes less than 20% of sand dunes, comprising of compact salt lake bottoms and craggy rocks. The rich flora of the forest consists of palm, salai, dhok, and ronj trees.
The national park is extremely rich in avian population as compared to other species of animals. Blue-tailed and green bee-eaters, Indian rollers, drongos, and common and bush quails are some birds commonly sighted at the park. The park also plays host to a number of migratory birds in winters, some of which are sparrows, Imperial sand grouse, bee-eaters, shrikes, bustards, falcons, larks, demoiselle cranes, eagles, etc. The Great Indian Bustard, which is on the verge of extinction, is also an inhabitant of the national park. Amongst the animals, one can spot the desert fox, hare, blackbuck, chinkara, wolf, and desert cat. The ideal time to visit Desert National Park is during the winter months, from October to March.
The Desert National Park is the only desert sanctuary in India. One can enjoy the visit to the national park either in a jeep or opt for the adventurous camel ride. If you have the Desert National Park on your travel itinerary, you can also grab the opportunity to visit Wood Fossil Park, Akal which is situated just 17 km away from the national park. This fossil park holds massive fossils of tree trunks as well as about 180 million year old sea shells. At the Desert National Park, though one can easily spot the fauna inhabiting here, it is ideal to be at the Sudarshi Water Hole to spot the same in large numbers. The vegetation of this desert terrain is sparse, and one can only see few patches of sewan grass and oak shrub. The main water sources in this region are Padam Talao Lake, Rajbaugh Lake, and Milak Lake which are essential for animals dwelling in this harsh habitat. This vast and diverse park is an excellent place for nature lovers and ardent wildlife photographers who wish to capture wildlife in the camera lenses.