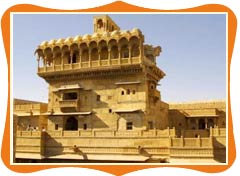 Jaisalmer Havelis are beautiful sandstone mansions of Jaisalmer's wealthy merchants. These elaborate structures are like a poem engraved on sandstone with infinite details and pains, carved and pieced together in different patterns. Even though these "havelis" are lavish and loud in nature, there are framed in perfect harmony that characterize them and provide a visual treat for the eyes of the beholders. Nathmal ki Haveli, Patwon ki Haveli, and Salim Singh ki Haveli are the most famous and significant havelis of Jaisalmer to look out for whenever in this beautiful city. Take a look at these three enchanting and fascinating havelis in the lines below.
Patwon Ki Haveli
Patwon ki Haveli is one of the oldest and most elaborate havelis of Jaisalmer. It has exquisitely carved pillars, corridors, and chambers and is popularly known for its beautiful jharokhas or balconies. The five-storied haveli is categorized into six apartments, two owned by Archaeological Survey of India, two by families who operate crafts shop, and two act as private homes. The haveli still has reminiscences of the beautiful mirror work and murals painted on its walls. The task of construction of the haveli was undertaken in the early 19th century at the behest of the family of Ghuman Chand Patwa (a trader of expensive brocade and embroidery). It is believed that there are five suites in the building dating between 1800 and 1860 which display the beauty of work in the stone carving of their mansion.
Salim Singh Ki Haveli
This famous haveli is named after the Prime Minister of Jaisalmer, Salim Singh and is nearly 300 years old. The mansion has a beautiful arched roof with superbly carved brackets in the form of peacocks. The front facade of the haveli resembles a ship stern, for which the haveli is also referred to as "Jahazmahal". Two sandstone tuskers guard the entrance of the haveli. The haveli consists of as many as 38 balconies, all built in distinct styles. Legend has it that the minister wanted to get the haveli built of the same height as that of the palace of the Maharaja but the king did not permit and hence, got two stories torn down.
Nathmal Ki Haveli
One of the ostentatious and recent havelis of Jaisalmer to be built in 1885 AD by the architect brothers Lulu and Hathi, Nathmal ki Haveli has a unique story to tell about its construction. The two architect brothers took to left and right size respectively for constructing the haveli, yet the haveli boasts of striking symmetry. Life-size replicas of elephants in yellow sandstone guard the entrance of the haveli. The right and left wings of the haveli are adorned by miniature paintings of flora, cattle, and horses. The haveli still stands in excellent condition and is a major tourist spot of Jaisalmer.