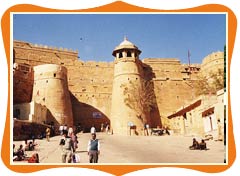 Jaisalmer Fort, situated in the Jaisalmer city of Rajasthan, is one of the largest forts in the world. It is also referred to as the Sonar Quila or the Golden Fort due to its location in the land of golden sand dunes of Thar Desert in Jaisalmer. This majestic fort is made of yellow sandstone and shines like bewitching gold, when the sunrays fall on it. The fort consists of several palaces, security sources, havelis (mansions) of rich merchants, temples, and residential complexes of the army. The fort was built by Bhati Rajput Raja Rawal Jaisal in 1156 AD and is amongst the oldest forts of Rajasthan. The fort falls on the great trade route connecting India with Persia, Arabia, Egypt, and Africa which greatly increases its significance.
The fort contains three protective layers of walls. The outermost layer is made out of solid stone blocks and reinforces the loose rubble of Trikuta Hill. The middle wall covers the fort like snakes. It is believed that from the third innermost wall, the Rajput warriors hurled boiling oil and water as well as massive blocks of rocks at their enemies, who would become entrapped between the second and third walls. The defense mechanism of the fort is quite strong with 99 bastions protecting the fort. The fort complex encompasses gigantic merchant havelis which were built in the 12th century by rich merchants under the Bhati Rajputs. These mansions are a fine example of joined craftsmanship of Hindu and Muslim workers. The sculptural filigree, screen windows, delicate pavilions, and beautiful balconies of the mansions are bound to simply leave the spectators speechless by their beauty.
The fort also boasts of Jain temples dating back to the 12th century and the Laxminath Temple. The historic fort has been a witness to several wars and historical battles since its creation. In the 13th century, Ala-ud-din Khilji attacked and captured the fort and managed to hold it for nine years. During this seizure, the Rajput women committed Jauhar. In another historical battle that took place in 1541, Mughal emperor Humayun attacked the fort city. The Golden Fort today stands as the only living fort in the world, where people still reside. It is believed that at one point, the entire city of Jaisalmer was settled within the fort. Gradually, with the increasing population, few inhabitants of Jaisalmer moved out of the fort and found shelter at the base of Trikuta Hill. The splendid fort is the lifeline of the people of Jaisalmer. The fort is famous for its numerous eateries, including Italian, French, and native cuisines. It is a great place for visitors to witness the rich history of Rajasthan and its cultural heritage.