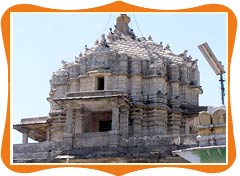 The example of the most exquisitely carved temples of Rajasthan is, undoubtedly, the Dilwara Jain temples of Mount Abu and probably has no match all over India. These Jain temples are listed among the most beautiful and finest Jain temples worldwide for their extraordinarily impeccable architectural style. Thus, Mount Abu marks the principal place of pilgrimage for Jains in India. Built in marvelous marble, the Dilwara temples were constructed between the 11th and 13th centuries. Plus, the ornamented marble stone carvings all over delight each visitor paying a trip. The five imposing and magnificent temples of Dilwara are Vimal Vasahi, Luna Vasahi, Pithalhar, Khartar Vasahi, and Mahaveer Swami Temple. The temples are almost covered by shady mango groves and have beautiful gardens laid out in the temple complexes. The excellent soothing and serene aura fills in eternal peace in oneself. When inside the temple complex, the picturesque background of Mt. Abu hills renders the entire area a spiritual feel.
The most famous of the Dilwara temples are the divine Vimal Vasahi Temple which is dedicated to Adinathji the 1st Tirthankar of the Jains, and Luna Vasahi Temple, dedicated to the 22nd Tirthankar Neminathji. The temples are built in the Nagara and Dravidian styles of architecture. Vimal Vasahi Temple was constructed by Vimal Shah, a rich Jain merchant and minister. The immense contribution to Jain architecture was made by Vastupala and Tejpala, local ministers at Mount Abu. Almost the entire structure of the Dilwara temples is heavily ornamented with exquisite carvings and not even a single wall, pillar, or ceiling can be found bare. These intricately carved ceilings and pillars are simply phenomenal. Surprisingly, all this extraordinary work has been done in the time when no transportation medium was available. Devotees and priests perform regular prayers here and for the same, specific bathing and dressing areas are also assigned.
The other three principal Dilwara Jain temples are Pittalhar Temple, Parsavanath Temple, and Mahavir Swami Temple. The idol of the first Jain tirthankar, Sri Adinathji is rested at Pittalhar and is built from five metals, thereby denoting the name of the temple. This temple was constructed by Bhima Shah, a minister. Parsavnath Temple has the tallest shikhara amongst all the five temples of Dilwara. It was constructed by Mandika clan between the years 1458-1459 AD. All the Dilwara temples are synonymous to an art gallery with some astoundingly and magnificently carved pillars, roofs, and walls. The Dilwara temples not only attract Jain pilgrims but also people from across all religions and beyond the country, who are bewitched by the beauty and serenity of the temples. They are one of the best centers to dive into divine devotion amid the laps of exceptionally angelic natural ambience.