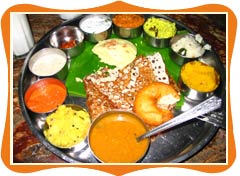 Cuisine from time immemorial has given a distinct identity to a region simultaneously echoing the cultural of the same. A place where cooking food is considered an art form, one can only imagine what a lip-smacking treat is awaiting a man in love with authentic food. Rajasthan is one such state that offers sumptuous and simply irresistible delicacies, leaving you asking for more. Every state has a region-specific food depending upon the vegetable and meat that is available there and the kind of living conditions and climate prevailing there. Rajasthan, too, has typical Rajasthani food due to the hot and arid climate and the warring conditions of the state in the past. The types of dishes that have evolved in Rajasthan are prepared to last the long wars and are ones which need not be heated over and again. Due to scarcity of water, the meals that are cooked here do not require large amount of water. In fact, in regions like Barmer, Jaisalmer, and Bikaner, where water is always short, the meals are prepared in milk, ghee, and buttermilk.
The dishes of Rajasthan will surely satisfy your taste buds, despite the climatic limitations and lack of several vegetables. Like the majestic lifestyle of the kings, the meals of royalty were also equally majestic. The elaborate meals were prepared by the khansamas or the royal cooks. Most of the delicious recipes of the royal cooks were kept a secret while some were passed on to the succeeding generations. In Rajasthan, both vegetarian and non-vegetarian dishes are popular and extremely mouth-watering. The Rajput kings, in earlier days, frequently went on hunting and thus, the game was prepared as a meal for the royal party. Some of the Rajasthani communities are, however, purely vegetarian, like the Bishnois and the Maheshwaris. Visitors will love to get enthralled on sighting a large number of tempting varieties served in one single plate.
The use of pure ghee, gram flour, lentil, bajra, chilies, corn, and mango powder is very common in most dishes cooked in Rajasthan. While talking about Rajasthani food, it is imperative to mention the most popular and common dish of Rajasthan - dal (lentil), bati (baked wheat ball), and churma (sweet cereal cooked in ghee). Almost all the regions within Rajasthan have their local flavors to offer while you are on a tour to Rajasthan, namely, ghevar of Jaipur, mawa kachori of Jodhpur, malpuas of Pushkar, and sohan halwa of Ajmer. Sweets are an integral part of Rajasthani food which are not merely used as desserts, but are consumed before and even along with the meals. Some most popular sweets of Rajasthan include Besan chakki, dilkhushaal, churma, balushahi, motichoor ladoos, and ghevar.