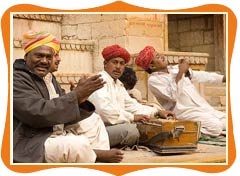 If the majestic forts and palaces are the body of Rajasthan, then the folk music is the soul of the "Land of the Princes". The folk music gives the people of Rajasthan a means of forgetting the tough living conditions in the desert and even adds a charm to the desert land. The Rajasthan style of music has made significant contribution in enriching the Indian music as a whole. One finds the music of different flavors that is sung here develops according to the local customs of the village life of people. Here, you will find folklores, hymns in praise of the Lord, tales of chivalry of the Rajput kings, songs in praise of the rain god, etc. In Rajasthan, the art of music flourished under the patronage of the Rajput kings who encouraged music in their royal courts.
In Rajasthan, you will find that a song exists for every occasion you can think of, be it happiness or sadness. The Panihari style of singing is an integral part of singing of the desert culture wherein the women sing to appease the rain god to shower its blessing on the thirsty land of Rajasthan. A unique style of singing is found in Rajasthan as the lyrics are read in a prosaic style. They cannot be strictly referred to as songs and are generally known as soratha, duha etc. The folk idioms of the saints, like Kabirdas, Surdas, and Mirabai, are also very famous here which are sung in praise of the Lord. Being the land of Rajputs, the ballad tradition is strong in Rajasthan; the bard sings folklores in praise of folk heroes, like Prithviraj Chauhan, Tejaji, Ramdeoji etc. of their deeds at the battlefield.
The traditional musical culture of Rajasthan is preserved and popularized by a number of communities of Rajasthan who have dedicated their lives to music. These are the Dholis (both Hindus and Muslims), Mirasis, Langas, Kalawats and Qawwals, Manganniyars, Rawal, Nats, Bhawais, Fedalis, Kancharis, Tangas, and Patars. The songs of Rajasthan would have no melody if they are not accompanied with the music which is produced by instruments that have originated in Rajasthan. The group of string instruments includes the Sarangi, Ektara, Morchang, Kamayacha, and Rawanhatta. Locally in the category of flute and bagpiper, one finds here the bankia, shehnai, been, poongi, tarpi, and algoza. In percussion instruments, you will find huge nagaras on one hand and the small damru on the other. The music of Rajasthan has its own unique flavor which has kept the 5000-year old tradition of the state alive.