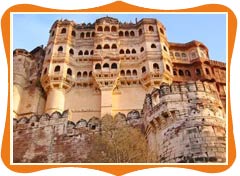 Mehrangarh Fort, built by Rao Jodha in 1459, is one of the largest citadels in India. Shortly after his accession to the throne, Jodha shifted his capital to the safer location of Jodhpur as the old Mandore Fort was no longer secure. The splendid Mehrangarh Fort is situated atop a 150 m high hill and oversees the entire city of Jodhpur. One can capture the breathtaking view of the entire city from the fort. However, to enter the main fort complex, one has to cross the seven huge gateways. Jai Pol (gate of victory) was built by Maharaja Man Singh to mark the defeat of Jaipur and Bikaner. Another significant gate, Fateh Pol (gate of victory) was built by Maharaja Ajit Singh to commemorate the victory of Rathores over the Mughals. Lohapol (gate of iron), the final gate to the main complex, was built as a mark of respect for the Ranis of Maharaja Man Singh who gave up their life while committing sati.
Within the premises of the fort, there are several brilliantly crafted and decorated palaces like Moti Mahal (Pearl Palace), Phool Mahal (Flower Palace), Sheesha Mahal (Mirror Palace), Sileh Khana, and Daulat Khana. Moti Mahal, or the Pearl Palace, was built by Raja Sur Singh and has five alcoves leading into hidden balconies. It is believed that they were built for his five queens to listen to the court proceedings. Another important period room is the Sheesha Mahal, or the Hall of Mirrors. The mirror-work of Sheesha Mahal includes large, regular pieces, instead of an intricate mosaic of tiny fragments. The other remarkable salient feature is the superimposition over the mirror-work of brightly painted religious figures made in plaster. Phool Mahal, created by Maharaja Abhaya Singh, is another astonishing period room in the fort. Being the grandest of Mehrangarh's period rooms, it is considered a private and exclusive chamber of pleasure.
These period rooms are still well restored to this date. Not only is the Mehrangarh Fort an architectural marvel which keeps the spectators awestruck but it also has one of the finest museums in Rajasthan displaying the rich cultural past and heritage of the Rajputs. The spectacular museum showcases a wide collection of armory, canons, palanquins, royal cradles, costumes, jewelry, furniture, miniatures, and musical instruments. One can also see Elephant's Howdahs in the museum; howdahs were two-compartment wooden seat (mostly covered with gold and silver embossed sheets), usually fastened on to the elephant's back. While the front compartment was meant for kings or royalty due to more leg space and a raised protective metal sheet, the rear smaller compartment was for a reliable bodyguard. For admirers of architecture and history, Mehrangarh Fort is a must-visit during Jodhpur tour.