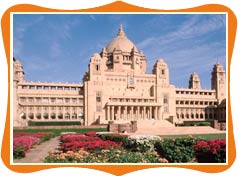 One of the largest and grandest private residences in the world, Umaid Bhawan Palace, located in Jodhpur, was built in the 20th century and took 16 years to complete. The palace derives its name from Maharaja Umaid Singh who was fond of western lifestyle and hence, appointed the Edwardian Architect Henry Vaughan Lanchester to build the splendid palace. Situated on the highest point in Jodhpur, Chittar Hill, the palace was initially called Chittar Palace. The palace comprises of 347 rooms, which declared it the first biggest private residence in the world. Designed by renowned Lanchester, the palace was given a blend of Indian and European architectural influences by the Indian architect Budhmal Rai. One can view the influence of European Renaissance in the building's prominent central dome, a majestic 105-foot (32 m) high cupola, while the towers of the palace draw heavy inspiration from Rajput tradition.
The throne room is exquisitely decked up with murals from the great epic, Ramayana. It is believed that the construction of Umaid Bhawan Palace was undertaken by the Maharaja to provide relief to the drought affected farmers. This construction employed more than 5000 men for fifteen years. The palace houses a magnificent wood paneled library. The present owner of the palace, Maharaja Gaj Singh has divided the palace into three sections; a private residence, a luxury hotel, and a museum displaying a wide range of stuffed leopards, pictures, arms and swords of Jodhpur's royal heritage. The royal family of Jodhpur, including the heir to the Jodhpur throne Yuvraj Shivraj Singh, occupies a large section of the magnificent palace. Interestingly, no mortar or cement has been used to bind the stones together while constructing the palace. Instead, all the pieces are carved stones joined together by a system of carved, interlocking positive and negative pieces.
To transport the large blocks of stones, a specially constructed train line was put in service. The design of Umaid Bhavan Palace is so sophisticated that it always maintains the temperature at approximately 23 degrees Celsius. It is a remarkable depiction of the western and eastern aesthetics combined together. The high dome of the palace gives a straight impression of renaissance architecture while the huge walls of the palace are adorned by beautiful murals picked up from Rajasthani folklore and Hindu epics. The decor of the palace is rich in Jodhpuri traditions and comprises of gild furniture and elegant artwork, following the art deco style. For people who wish to grab experience of Rajput royalty at its best, Umaid Bhawan Palace is the perfect place for them.