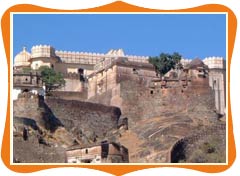 Considered to be the second most important fort of Rajasthan after Chittorgarh, Kumbhalgarh Fort was constructed in the 15th century by Raja Kumbha. Just 64 km north of Udaipur, the fort once served as one of the significant citadels of Udaipur. Today, it is highly popular as the birthplace of the legendary Rajput king, Maharana Pratap of Mewar. This fort is unconquerable due the hostile topography of the region and its self-contained phenomenon, which could last a long siege. It is surrounded by the splendid Aravali mountain ranges, giving it a unique picturesque and breathtaking backdrop. Constructed on the topmost ridge about 1,914 meters above sea level, the fort is strategically encircled by 13 elevated mountain peaks.
The strong and thick walls of this magnificent fort stretch to a length of 36 km, thereby placing it in international records. After the "Great Wall of China'", Kumbhalgarh Fort is the second longest wall in the world. The splendid complex of the fort comprises of numerous palaces, temples, and gardens, giving it a more breathtaking look. The extremely secured fort boasts of seven massive gates, seven ramparts folded with one another with designed walls strengthened by curved bastions and huge watch towers. The strong structure and solid foundation of the fort are unbeatable till date. It is believed that the hefty walls of the fort are broad enough to stand eight horses side by side. Over 360 temples are housed within the complex of the fort. Among these numerous temples, the Shiva Temple is worth visiting due to its huge Shivalinga (Phallic form).
The Badal Mahal, or the Palace of Clouds, situated on top of the fort is also equally famous. This beautiful palace is accredited to be the birthplace of the great warrior, Maharana Pratap. The stunning rooms of the palace are known for their lovely color combination of green, turquoise, and white, presenting a bright contrast to the earthy colors of the fort. This palace often gives an impression of wandering in the world of clouds, which gave it the name, "Palace of Clouds". From this palace, one can enjoy fantastic panoramic vistas of the town below. In the late 19th century, this fort was renovated by Rana Fateh Singh. The Kumbhalgarh Fort has been a witness to many invasions and historical battles, and has even granted refuge to the rulers of Mewar on several occasions. It is believed that this unconquerable fort fell just once to the combined armies of Amber and Mughals for paucity of drinking water. For people who are interested in architecture, this grandiose fort, standing on the land of Udaipur, provides a perfect visual treat. The fort falls within the vicinity of the famous Kumbhalgarh Wildlife Sanctuary, which is treasured for its avian population, leopards, and deer.