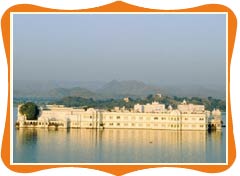 Originally known as Jag Niwas, the fascinating Lake Palace was built by Maharana Jagat Singh in 1743 as a royal summer palace. Located on Jag Niwas Island, the palace covers a total area of 1.5 hectare of the island in the middle of Pichola Lake. Interestingly, the palace is constructed facing east, thereby allowing its inhabitants to pray to the Sun God at dawn. Considered to be one of the most magnificent and unique pieces of architectural beauty in India, the palace has now been converted into a heritage hotel. Lake Palace was previously used by successive rulers as their summer resort, often holding their regal durbars in its courtyards, lined with columns, pillared terraces, fountains, and gardens.
The upper room of the palace depicts a perfect circular shape, about 21 feet in diameter. The floor of the palace is adorned with black and white marbles; the walls are ornamented with niches and decorated with arabesques of different colored stones, a similar style to the Taj Mahal at Agra. The rooms of the palace are beautified with cusped arches, inland stones of pink and green lotus leaves, and painted mirrors. Among the several interesting structures of the island are a room built of 12 giant slabs of marble, Shah Jahan's throne sculptured from a single block of serpentine, and a small mosque dedicated to Kapuria Baba, a Muhammedan Saint.
The Lake Palace constitutes several apartments within its complex, including Khush Mahal, Bada Mahal, Phool Mahal, Dhola Mahal, and Sajjan Niwas. All these magnificent and lovely sections of the palace simply captivate the spectators with their enchanting beauty. The palace is now transformed into a luxurious five-star hotel with 17 suites and 53 deluxe rooms. It features a swimming pool, a coffee shop, bar, jewelry shop, and souvenir shop. A number of interesting events of recreation are organized here, including excursions in and around Udaipur city. In an interesting trivia associated with this palace, it is said that during the famous Indian Sepoy Mutiny in 1857, several European families, fearing from the rebels, fled from Nimach and used the island as an asylum. Maharana Swaroop Singh then offered them protection and on his order, all the town's boats were destroyed to prevent the rebels from reaching the European families.
With time, the palace started losing its beauty and thus, required some serious restoration. The management of the hotel came under Taj Hotels Resorts and Palaces in 1971. The palace was restored to its original shape by Jamshyd DF Lam of the Taj Group who brought it to high standards through his expertise and experience. Also known as Taj Lake Palace, it is considered both a royal abode and luxury hotel. The entire aura of the Palace gives a romantic feel to it, hence making it the most romantic hotel of the India.