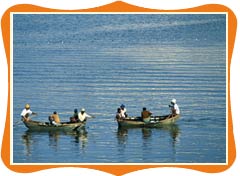 Pichola Lake of Udaipur, an artificial lake created in the year 1362 AD, derives its name from the erstwhile village Picholi which stood on the banks of the lake. Needless to say, the lake is one of the most beautiful lakes, not only in Rajasthan, but the entire India. Pichola Lake, apart from being popular for its enchanting beauty, also boasts of immense significance historically. The lake was originally built by a gypsy "Banjara" tribesman who transported grain, during the reign of Maharana Lakha. Impressed by the beauty of the lake, Maharana Udai Singh founded the city of Udaipur on the banks of the lake. Further, he built a masonry dam called Badipol over the lake, which extended the lake to its present size of 4 km long and 3 km wide.
Over the centuries, this contiguous lake developed in and around the famous Udaipur city. The primary objective of the creation of the dams was to meet drinking water and irrigation needs of the city and its neighborhood. With the passage of time, the surroundings of the lake and several islands within the lake have been developed with palaces, marble temples, family mansions, and bathing ghats or chabutaras. According to a popular account from the history, in 1623, when Prince Khurram rebelled against Jahangir, he sought refuge from the Mewar king, Maharana Karan Singh II and was placed in the partially completed Jag Mandir. He later usurped the Mughal Empire and took the title of Shah Jahan.
Some of the most significant and marvelous structures around the lake include the Lake Palace or Jag Nivas (which is now a luxury heritage hotel) located in the middle of the lake also known as Jag Island, Jag Mandir, Mohan Mandir, City Palace of Udaipur, and Bansi Ghat from where boats run to other parts of the lake. Some other captivating sightseeing attractions around the lake are Arsi Vilas Island, a sanctuary for birds, and Sitamata Game Sanctuary on the western shore of the Lake. Pichola Lake and Saroop Sagar Lake are connected by an arched bridge built by Maharana Swaroop Singh which further connects to Fateh Sagar Lake, the crystal watered lake. At many sites where the lake narrows, several ornamental arch bridges have been built to bridge the waterways between the banks, making for a perfect sight to be captured on the lens.
During the famous Gangaur Festival of Udaipur, the ghats of Lake Pichola come alive and are at the peak of activities. Lake Palace, situated in the middle of Lake Pichola glows, like a crowning jewel. The enthralling boat rides on the tranquil Lake Pichola provide a mesmerizing experience. Thousands of tourists from across the globe get attracted to this beautiful destination in Udaipur due to its splendid beauty and rich history. The memorable moments spent on Lake Pichola, once embedded in the minds, are hard to forget and drag visitors to visit this eastern Venetian paradise time and again.