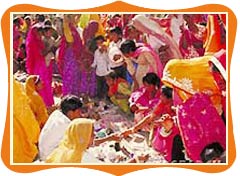 Rajasthan is the storehouse of fairs and festivals. Every big and small city or town celebrates at least one of them with extreme joy and encouragement every year. The Banganga Fair is one of the biggest and oldest fairs, probably 200 years old, dating back to the time of the erection of Radha-Krishna Temple at Bairath district of Jaipur. It is held near a rivulet, 11 km away from Bairath, on the full moon day of Vaisakh (April-May). The Banganga Fair is regarded to have great historical significance. The stream is believed to have sprung up when Bhishma Pitamah (a warrior in Mahabharata) felt thirsty and the great archer Arjun shot an arrow to extract water for him. Thousands of devotees from all over Rajasthan and beyond come to the fair to take a dip in the holy water of Banganga stream, which is considered as an auspicious time.
The Banganga riverbank has numerous other holy shrines which are visited by people without any fail. These sites are impeccably beautiful and divinely holy. The Math of Goswamiji and the Temple of Lord Hanuman, Shiva and Ganga Bihari are some stunning sacred centers which are a must visit during the fair. During the fair, devotees assemble at the Radha-Krishna Temple in the morning and subsequently pray in the temple, followed by a holy dip at the Banganga ghats, considered to be an act of washing away their sins and cleansing and purifying the soul. All these activities and holy ambience leave people mesmerized in eternal devotion. One should not miss being a part of this fair while journeying to the state. This fair definitely offers charming shops selling several souvenirs and curios for travelers that they can buy for their loved ones back home.
The Banganga Fair is very popular not just only for religious reasons but also for tasting a flavor of Rajasthan culture. Apart from a large number of devotees, traders, too, make their way here to sell numerous interesting articles to visitors which are displayed at numerous stalls, like Rajasthani textiles, handicrafts and, of course, authentic mouth-watering Rajasthani food. Thus, the fair offers a lot of value for traders who come to trade their goods in the market. The fair is heartily cherished by both adults and children, who enjoy various exciting activities organized. The fair is a treat for children as well with all kinds of rides present here. Altogether, the Banganga Fair is one of the prime considerations when planning to visit Jaipur.