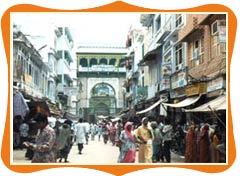 Ajmer Urs Fair, held in the divine city of Ajmer, is an occasion to mark the death anniversary of Khwaja Moin-ud-din Chisti, who came from Persia and started the Chistia order of Fakirs in India. The Sufi saint left for heavenly abode in 1256 AD after six day seclusion at the spot where Ajmer Sharif Dargah stands today. Also, the remains of this great Sufi saint were interred here in this dargah. The Khwaja is also popularly known as Gharib Nawaz, or the protector of the poor, for he spent his entire life in service of the poor. The six-day fair is the biggest fair of Muslims but observes people from all communities flocking in large numbers to seek the blessings of the divine Saint. On his Urs (death anniversary), which falls in the seventh month of the Islamic lunar calendar (Rajab), more than five lakh devotees throng the holy shrine.
During the fair, thousands of believers congregate at the shrine and offer exclusive prayers. Special food is prepared during this time in large cauldrons which were gifted by Mughal Emperor Akbar and distributed among the visitors at the shrine. The Sajjada Nashin (successor representative) of Chistis inaugurates the fair by hoisting a white flag on the dargah. The ritual of ghusal is performed on the first day of Rajab wherein the tomb is washed with rose water and sandalwood paste, and anointed with perfumes to be later covered with embroidered silk sheet by the Sajjada Nashin. The pilgrims offer rich offerings, which are known as "nazrana" at the point where the saint has been buried, such as flowers, sandalwood paste, perfumes, cash, 'chaadar', 'ghilaph', and 'neema'. Outside the dargah, there is a lining of fragrant markets selling rosaries, textiles, flowers, prayer mats, etc.
The entire holy city of Ajmer is in festive mood and is decorated thoroughly. The bazaars (markets) look resplendent with all kinds of sweets, religious goods, and colorful fabrics. The Dargah Sharif looks simply divine with the smell of incense all over with the Qawwals (singers) singing in glory of the saint. The celebrations unite people cutting across all faiths who are mesmerized by the Sufi ballads sung by the qawwals. These professional 'qawwali singers' sit in a bunch and sing soothing hymns in praise of the saint. Their characteristic high-pitched voice is quite popular. The women also attend these enchanting mehfils held under the night sky in a separate zenana quarter. The Qul (end all) marks the end of the fair on the sixth day of Rajab. Being a part of the Urs Fair at Ajmer is a blissful experience which serves as cleansing the soul.