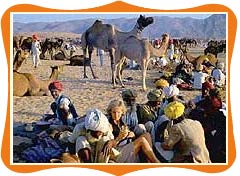 A sojourn to Rajasthan is half-done if you haven't visited the holy city of Pushkar. One of the most sacred little dazzling towns of Rajasthan, this city is popular for its spectacular Pushkar Fair. Organized in the Kartik month (October-November) of the Hindu calendar, the
Pushkar Fair
is one of the largest cattle fair of the world attracting tourists from across the globe. People throng the festival with their cattle to trade in one of the biggest cattle markets of the year. Pushkar Fair, also known as the camel fair, witnesses trading of camel at a mammoth scale. The camel traders get the best breeds of camels and even decorate them with jingling bells and vibrant and colorful attire. The fair has religious significance as ardent devotees come to Pushkar in the holy month of Kartik and consider it a great privilege to dip in the holy water of Sarovar Lake. This act is considered a divine way of washing away the sins.
Pushkar Fair presents you an experience of a lifetime as the entire city comes to life with people flocking in from all around the world to make the place a melting pot of cultures. The fair offers something unique for everyone in its innumerable colorful stalls that bring you beautiful handicraft materials for home decors, traditional Rajasthani attires, and, last but not the least, delicious and mouth-watering Rajasthani delicacies. The stunning fair comprises of hundreds of camels and other cattle, ornamented adorably for trading. The Rajasthan government organizes the art-cum-exhibition sale at Shilpgram during the fair where works of Rajasthani craftsmen are put on display. The cattle auction is a very interesting and rare site which you can encounter here. The fair is one such place where you can enjoy every flavor of Rajasthan under one roof.
The fair hosts a number of exciting competitions and amusing activities which keep the visitors entertained throughout. The enthralling camel race is a major crowd puller in which people bet on their respective camels and cheer them to win. Especially at night, the festival comes to life with numerous enticing traditional dances and catching folk music to make you feel that you belong to some other dynamic world. You are sure to get immensely delighted when this place showcases a divine spiritual feel with thousands of sparkling lamps lit on leaves and left on the Sarovar Lake to float, giving the impression as if the stars have come down on earth. The Pushkar Fair is, undeniably, a feast for the eyes which should not be missed. So, plan a visit to Pushkar during the upcoming fair time and enjoy its colorful and jocund festivities.