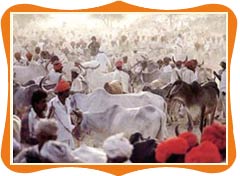 If you want to witness one of the greatest sods of cattle trading, Nagaur Fair is the right place to head. With numerous different types of cattle, people in colorful costumes, joy rides, alluring little shops, and finger-licking eating stalls, this fair attracts loads of eye-balls from all over the world. Nagaur, the city of the biggest red chilly market of the country, hosts the amazing Nagaur Fair, the second largest cattle fair of Rajasthan. The fair is held every year in the Hindu month of Magha (January and February) across eight days. At the fair, trading of approximately 70,000 cattle is done which includes the famous Nagauri breed bullock, cows, oxen, horses, and camels. The cattle are adorned by lavish and colorful accessories to attract customers. What's more, even the cattle owners are decked up with colorful turbans for the occasion.
Nagaur Fair gives one an opportunity to trade not just cattle but also buy and sell beautiful wooden items, exquisite iron crafts, and camel leather accessories. For the adventurous set of people and those wanting to indulge in some frolic, there are a number of local sports organized during the fair, like tug-of-war, bullock cart race, camel race, and cock fights. Besides this, the fair is dotted with numerous other entertainment activities, such as jugglers, puppeteers, and storytellers which add an extra excitement within the attendees. People of any age can have a blasting and joyful time here. The high spirited fair is a delight to attend and people in thousands throng to the fair not merely for trading purposes but also to visit the picturesque Rajput town of Nagaur and experience its adorable hospitality during the fair. To cut short, this fair has something to delight each of its visitors.
Amazingly the fair's feast, fun, and entertainment do not end with the daylight, rather the entire aura becomes more lively and bright as the sky turns black. The evenings at the fair are no less interesting with a long list of activities taking place all around. In fact, the true spirit and mirth of the fair gets highlighted in the evenings when the entire ambience infuses a romantic, peaceful, and serene feel, along with soothing folk music filling the air, and puppeteers and story tellers doing rounds of the campfire lit fair. The warm bonfire, encircling the fascinating sand dunes against a dark starry sky, provides an enchanting touch to the fair in the night. The jovial atmosphere makes it a truly entertaining visit to the fair of the desert city of Nagaur. Visitors of this fair are sure to enjoy a wondrous time here and return home with infinite multihued memories.