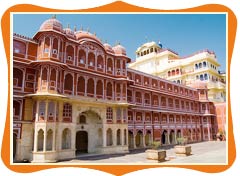 Situated in the midst of the heart of the walled city, City Palace Jaipur was built by Raja Sawai Jai Singh and later, the rulers that followed, made extensions to it. A section of the City Palace still serves as the residence of the royal family of Jaipur. However, the ground floor and other sections of the palace are open for public viewing and currently act as museums. The palace is an ideal example of a blend of Mughal and Rajput styles of architecture. It has a string of imposing halls and small palaces within its complex, which are sure to bewitch the spectators through their colorful motifs and intricate carvings on the wall. The Mubarak Mahal at the entrance of the complex was built by Maharaja Sawai Madho Singh in the 19th century by combining the Islamic, Rajput, and European architectural styles, with a purpose to serve as the reception centre for royal guests. It has now been turned into the Raja Man Singh II Museum and displays the royal costumes of the kings and queens of Jaipur.
The marble-made pavilion, the Diwan-e-Khaas or the hall of private audience, in the palace is now a place that displays the world's largest sterling silver objects - two gigantic vessels, officially acknowledged by the Guinness book of World Records. The Diwan-e-Aam, or the hall of public audience, with a ceiling designed in red and gold colors, serves as the art gallery displaying ancient Hindu manuscripts and exquisite works of Mughal, Rajput, and Persian art. This art gallery also exhibits the Golden Throne (Takht-e-Rawal) that served as the seat of the Maharaja during public audience. An early 18th century temple called Govind Dev Ji temple, dedicated to Lord Krishna, with its European chandeliers and paintings of Indian art, is another part of the City Palace complex.
The seven-storied Chandra Mahal is the residence of the current Maharaja of Jaipur and his family. The palace is the perfect abode for royalty as it is enchanting with its flower patterned decor, parapets shining with mirrors, intricately carved ceilings, and beautiful paintings adorning the walls. The Chandra Mahal is famous for the exquisite peacock in the courtyard which is worth viewing. The Maharani Palace or the Queens Palace ironically serves as the armory museum today. The weapons on display, here, date back to the 15th century and are in a remarkable state even today. One of the unique weapons on display is the scissor-action dagger. Apart from this, you can find jewels and ivory handled swords, pistols, chain armors, belt sword, poison tipped blades, small and assorted cannons, and gun powder pouches. The City Palace Jaipur, thus, offers something unique to its visitors who feel that they belong to this place as they proceed through the artifacts of this museum.
City Palace is open for public from 9.00 AM to 5.00 PM.