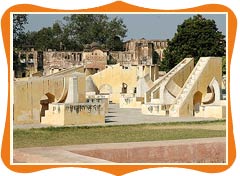 Located opposite the gate of the City Palace, the Jantar Mantar of Jaipur is the world's biggest stone astronomical observatory which is still in a functional condition. Constructed wholly with stone and marble, Jantar Mantar houses fourteen architectural astronomical instruments and is one of the famous five astronomical observatories built by Maharaja Sawai Jai Singh II. The name 'Jantar Mantar' is derived from the Sanskrit term 'Yantra Mantra', meaning a device and formulae. The observatory was completed in about seven years and was built between 1728 and 1734 at the behest of Emperor Muhammad Shah who commissioned Raja Sawai Jai Singh II to correct astronomical tables, as it was known that the Raja himself was an excellent astronomer and took keen interest in astronomy.
The observatory was declared a national monument in 1948 and is visited by astronomy lovers and general public alike. Jantar Mantar has been listed as the UNESCO World Heritage Site and has been inscribed on the World Heritage list as "an expression of the astronomical skills and cosmological concepts of the court of a scholarly prince at the end of the Mughal period". The monument is a living proof of the interest of people even 300 years ago in astronomy and the science of celestial bodies. The fourteen geometric instruments of Jantar Mantar can still be used for making astronomical observations. The concrete astronomical instruments can calculate the time of the day, can predict eclipses, measure the height of the celestial bodies, and predict the location of the constellations.
The Samrat Yantra or the Sundial, one of the biggest geometric devices of Jantar Mantar and world's largest sundial, provides us with the correct time of the day with an accuracy of about 2 seconds, even today. Some other astronomical instruments at the Jantar Mantar are the Ram Yantra, Jaiprakash Yantra, Dhruva, Narivalya, Kranti, Raj, Unnathamsa, Disha, Dakshina, Rashivalayas, and Diganta. It is believed that Maharaja Sawai Jai Singh II sent his envoys all around the world to collect the latest astronomical knowledge of the times to build his observatory. The Jantar Mantar is visited by innumerable visitors every year who completely get caught in awe of the observatory that was built in not so modern times.
Jantar Mantar is open for public from 9.00 am to 4.30 pm.