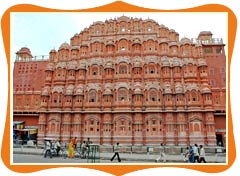 The Palace of Winds, located in the heart of the city of Jaipur, is an unusual structure with 953 small windows known as "Jharokas", at the large wall facing the street, today. The numerous latticed windows were constructed to allow the cool breeze to enter in the hot months of summers. It was built by the poet king Sawai Pratap Singh in 1799 for the women of the royal family, to view the royal processions and other activities on the street below from the palace, without being visible themselves. The magnificent Hawa Mahal is an architectural wonder, beautified with intricate jali work on the 953 casements which are sure to, undoubtedly, spellbind the spectators.
The courtyard inside the palace houses a small archaeological museum. The palace was designed by Lal Chand Usta in the form of a crown of Lord Sri Krishna. It is believed to be the favorite resort of Maharaja Jai Singh because of the elegance with which the interiors were designed. The fountains that were planted in the centre of each chamber provided a fine cooling effect inside the premises when air passed through these windows. Also, they add on to the aesthetic beauty of the place, thereby making the palace all the more stunning and striking.
The main entrance to the Hawa Mahal is from the city palace state door which opens into a spacious courtyard. The pyramidal facade of the palace gives it a look of the screen and it doesn't seem that the palace has a huge three side open courtyard. The five-storied palace is typically a Jaipuri structure, built in red and pink sandstone, magnificently outlined with white borders and motifs. The astounding views of Jantar Mantar and the city palace can be viewed from the top floor of this monument. And the rush of the street below is something which is bound to remain etched in your mind after visiting this beautiful structure.
The best time to visit the Hawa Mahal is at sunrise when sunrays pierce the striking latticed windows and give the entire palace a golden radiance. The Jharokhas were built by Sawai Pratap Singh so that the royal women could experience a unique veiled freedom. To experience what the royal Rajput ladies of Jaipur felt in the bygone era, a visit to the palace is a must. The palace still stands proudly in the heart of Jaipur and is a significant part of the modern-day residents of Jaipur.
Hawa Mahal is open for public from 9.00 AM to 4.30 PM.