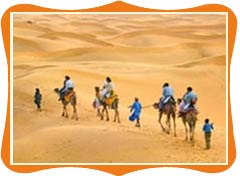 Peak Season:
October to March
The state of Rajasthan is thronged by tourists throughout the year due to the variety of tourist destinations it offers, ranging from Heritage sites, pilgrimages, wildlife safaris to colorful fairs and vibrant festivals. As such, it has something to offer to people cutting across all age groups and tastes. Although there is no such thing as best time to visit Rajasthan as the temperatures during the summer months vary quite a bit - the days are extremely hot but at nights, the temperatures dip with an apparent chill, but it is generally recommended to those, who are not accustomed to Indian summers, to visit Rajasthan in winter or monsoon months as, during this time, the state is at its climatic best and is also the time when all fairs and festivals are held. Therefore, the months of monsoon (July to September) and winters (October to March) are ideal to pay a visit to Rajasthan.
Rajasthan in summers is little uncomfortable for people traveling from cold countries and states. The summers in Rajasthan have a temperature as high as 45-48 degrees C, particularly in the months of May and June. The only hill station in the state of Rajasthan, i.e. Mount Abu situated in the Aravali hill ranges, registers the lowest temperatures in the scorching summer months. However, tourists still visit the state but take certain simple precautions to protect themselves from the sweltering heat. The use of hats, sunscreen lotions, head-scarves, and wearing light cotton clothes is advisable as they will help you protect yourself from heat strokes. Also, consuming lots of fluids on the trip will help in beating the summer heat and make your stay more enjoyable, even in summers.
The perfect time, considered by many, to visit Rajasthan is the winter season between October through March. The weather of Rajasthan during this time is the most beautiful and idyllic. Though it is winter season, the temperature remains warm and pleasant throughout the day which is the perfect time to visit all the palaces, temples, and forts. Visitors can also enjoy sun-soaked winters of Rajasthan and indulge in all kinds of outdoor activities, like safari ride, visit numerous fairs and festivals, or even shop for the beautiful and colorful Rajasthani fabrics. The chilly winter evenings, with the nights being bearably cold, present an ideal opportunity and setting to set bonfires and listen to the tales and folk music of the land, whilst enjoying the hot local cuisines.