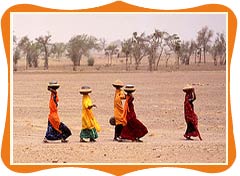 Main Seasons:
Summer, winters, monsoon and post-monsoon
The state of Rajasthan is located in northwestern part of India. The Aravali Mountains, stretching diagonally across the state from south-west to north-east, separate the desert and semi-desert areas in the west from the sub-humid areas in the east. The large part of Rajasthan is a desert and has little forest cover. The weather of Rajasthan is mostly hot and arid. Rajasthan enjoys brief spells of rainfall while the summers get really hot with temperatures soaring very high. The weather during winters, on the other hand, becomes very cool and windy. To know more about the climatic conditions in Rajasthan, read through the following lines.
Summer
Summers in Rajasthan are a time of scorching heat and hot winds. The summer season extends from April to June. The temperature during this period ranges anywhere between 32 to 45 degrees Celsius. However, in western Rajasthan, temperatures can reach as high as 48 degrees Celsius, especially in the months of May and June. It is only in the hill station of Rajasthan, Mt Abu, that one can expect some sort of respite from the hot weather. The summer nights in Rajasthan are, however, cooler as the dip in temperatures can be felt through the mild chill in the air. Dust storms that are brought in by the western winds are common in the summer months. Average rainfall remains at around 20 mm.
Monsoon
Between July and September, Rajasthan enjoys frequent spells of rain, experiencing about 90% of rainfall during this period. During this season, one can witness a fall in the temperature of Rajasthan. However, the humidity level increases. The temperature ranges from 35 to 40 degrees Celsius. Average rainfall remains at around 130 mm.
Post Monsoon
This is the season when the temperature further dips in Rajasthan. This season lasts for two months, October and November. The average maximum temperature is from 33 degrees Celsius to 38 degrees Celsius, while the minimum is between 18 degrees Celsius and 20 degrees Celsius. Average rainfall received is around 5 mm.
Winter
Between the months of December through March, Rajasthan enjoys a cool climate with January being the coolest month of the year. In the state, however, there are temperature variations in the cities. The temperature during this season ranges from 10 degrees to 27 degrees Celsius. However, in some cities, the temperature may even drop to 0 degrees Celsius, like Churu. Slight precipitation in north and northeastern regions of the state is also experienced, along with light winds. Relative humidity remains at around 50-60% in the morning, dropping to 25-35% during noon. Average rainfall remains at around 5 mm.