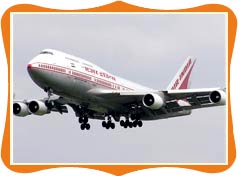 Rajasthan, located in the north western side of India, is the largest state of India and has always been an enigmatic place which travelers have wanted to explore. People from across the globe are desirous of paying a visit to this state, known for its rich culture and heritage. Rajasthan is a destination which can be accessed without much difficulty. One can reach Rajasthan by means of air, rail, and road. Almost all the cities of Rajasthan are well connected by rail and road while several cities have domestic airports as well. To make travel for visitors more convenient, we have mentioned how they can reach the princely land of Rajasthan conveniently and comfortably.
By Air
Rajasthan is easily accessible by air. Jaipur, the capital of the state, has the only international airport of the state. The other nearest international airport from Rajasthan is Delhi, at a distance of 260 km. There are a number of domestic airports in Rajasthan at Jodhpur, Udaipur, and Jaisalmer. However, Rajasthan has only three International flights landing at Jaipur from Dubai, Muscat, and Sharjah. But, the connectivity within the state through flights is well established.
By Rail
India has a well established rail network running through the country, making the remote parts of the various states accessible and Rajasthan is no exception to this, with well connected networks of rail. In addition, it happens to be one of the cheapest means to reach Rajasthan. Most of the cities of Rajasthan, say Jaipur, Kota, Bikaner, Ajmer, Udaipur, and Jodhpur being the principal stations of the state, are connected by daily services from major states and cities of India like Delhi, Kolkata, Mumbai, Bangalore etc. An individual has sufficient options to choose and travel through economy class, AC chair car, 1st or 2nd class sleeper etc.
By Road
The state of Rajasthan can boast of a well connected road network considering the connectivity of the state through several state highways and national highways. About 1,50,876 km of road network runs across the state of Rajasthan. The national highways link Rajasthan with the states of Delhi, Uttar Pradesh, Gujarat, and Maharashtra. Thus, one can easily hit the road to Rajasthan and enjoy traveling in a taxi, private car, or via frequently available and cheapest, interstate bus services.