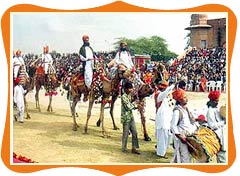 The modern mode of transport reached late in Bikaner. Even after this development, the survival of the people of this region largely depended on the "Ship of the Desert" - the camel. The camels of this province are famous as they have adapted themselves according to the climate of Rajasthan, as well as because of their strength and beauty. In fact, the Bikaner army had a privileged camel corps called the Ganga Risala which took active part in both the World Wars. The Ganga Risala was a camel unit in the army even after independence and took part in Indo-Pak wars. Bikaner has one of the unique camel breeding centers in India. Till date, camels are still used to pull heavy loads on carts in this region. With such a long involvement with camels, it is but expected that the Department of Tourism, Art and Culture chose to hold Camel Festival in Bikaner.
Camel Festival is organized every year in the month of January, along with the desert region's folk dances and music. It is an exclusive camel fair with no other cattle on display, a festival when the ships of the desert are seen at their best. These hybrid camels fascinate and lure tourists from all over the world with their movements, charm, and grace. A show of unusual camel performances such as camel races, camel dances, and the bumpy, neck shaking camel rides are performed. All such sports can only be witnessed and experienced in the desolate yet colorful city of Bikaner. The festival begins with the parade of the beautifully festooned camels. The parade heads towards the open desert grounds covered with sands. Here, the festivities begin beforehand. Interestingly, a camel pageant is held on the first day of the festival wherein camel owners exhibit their camels' decorations and ornaments.
Camel dance shows are also organized to make the event more thrilling. Contests for the best bedecked camel, fur cutting design, camel milking, and the best camel hair cut are held. The camels exhibit amazing footwork, dancing stylishly to the slightest direction of their riders. Colorful bridles, bejeweled necks, jingling anklets and long, lanky camel shadow on dusky sands, radiate a miraculous spell. During the festivities, tea and sweets prepared from camel milk are sold to visitors interested in pampering themselves with a different taste and flavor. The next day, the fastest camels of the region take part in the camel races. The contest is fierce as the best camels compete for the honors. Many excited tourists and locals cheer their favorites. The jubilant, skirt swirling dances, awe-inspiring fire dances, and many other equally interesting performances entertain the visitors. The grand finale is a wonderful display of fireworks which illumines the isolated city of Bikaner.