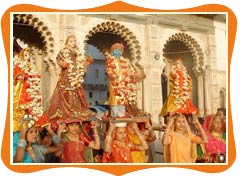 Famous as the city of lakes, Udaipur is a developed city in the state of Rajasthan. With its own network of transportation, the city has an airport, connecting to major Indian cities and a railway station with trains plying to major cities, like Delhi, Mumbai, Bangalore, Agra, Jaipur, Ahmedabad, and others. Apart from the mesmerizing and enchanting beauty that Udaipur is known for, it is also host to a number of festivals that keep tourists flocking in from across the world. The Mewar Festival held during March-April is one such engaging festival. An exhilarating welcome to the spring season, this festival is a visual feast with Rajasthani songs, dances, processions, devotional music, and firework displays.
Celebrated in the romantic city of Udaipur, the Mewar Festival happens to coincide with the Gangaur Festival. A procession of colorfully dressed women, carrying images of Goddess Gauri, makes its way to Lake Pichola. The unique procession of boats taken out on the lake offers a spectacular finale to the festival, infusing charm and delight amongst the spectators. Camels are specially beautified with various colorful items and ornaments for the occasion as they form an integral part of the procession, filled with enthusiasm and excitement.
Women throng at the festival site to dress the images of Isar and Gangaur, after which they carry them in a ceremonial procession through different parts of the city. You can see the passions and enthusiasm on their faces as it is an important festival, denoting the union of Lord Siva and Gauri, considered being an ideal couple. Such is the value of this couple that every Indian woman desires to have a perfect husband like Siva. The procession winds its way to Gangaur Ghat at Lake Pichola. Here, the images are transferred to individual boats amidst much singing and celebration. Once the religious part of the festival is done with, it is time for cultural events where Rajasthani culture is portrayed through songs, dances, and other programs. The festival culminates with an impressive display of fireworks. Like other fairs and festivals celebrated throughout the state, there are lots of activities which keep the participants excited and in a joyful frame of mind.