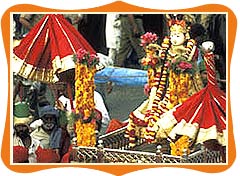 Celebrated with great pomp and show, the Gangaur Festival is one of the most popular festivals and events in Rajasthan that bears a special significance in the hearts of the native Rajasthani people. The festival is celebrated in the honor of Goddess Gauri and is observed during the spring season. One can see devotees offering prayers to the goddess whom they consider as the mother of abundance. Though the festival is generally marked in parts of Bikaner, Jodhpur, Nathdwara, and Jaisalmer on a large scale, but the Gangaur Festival commemorated in Udaipur is observed with equal pomp and grandeur in other parts of India also.
The Gangaur Festival, celebrated in Udaipur, is deemed to be the most important event and is marked the women folk of Rajasthan. Idols of Isar (Lord Siva) and Gauri are taken out to a garden, tank, or well, in the afternoon. Married women carry these idols to the decided place on their heads, along with singing traditional songs. The theme of the songs is the departure of Gauri who is on the way to her husband's house. On the first two days of the festival at Udaipur, the image of Gauri is faced backwards. While on the final day, the image is faced in the same direction as Isar. Finally, the ceremonial procession comes to an end with the immersion of the images in the waters of the tank or well. After bidding farewell to Gauri, the women return back to their homes with positive hopes of celebrating it again the next year.
Gauri is regarded an ideal wife and a sacred figure for married women, as she is the companion of Shiva and a symbol of virtue. Such is the significance of the festival that married women pray for the long life and welfare of their husbands. It is a common belief that a woman who performs all the rituals religiously increases the lifespan of her spouse. To add on, if unmarried girls observe this festival, they are likely to get married to the kind of spouse they desire. The festival that begins on the first day of Chaitra and continues for the next 18 days, reaches its climax in the last three days. Starting from the 7th day, girls carry earthen pots on their heads with a burning lamp inside it. This ritual continues for the next 10 days, following which it is finally broken. Images of Isar and Gauri are built with clay and are dressed at their best. Gangaur Festival carries a special meaning; for this reason, women wear bright clothes, fine jewelry, and design their hands with henna.