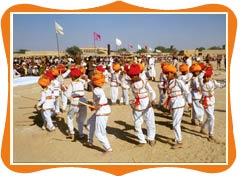 The desert city of Jaisalmer is the only place where Desert Festival is celebrated with great zeal and zest. This is one major festival organized once a year during winter season and in the middle of the sands of the great Thar Desert. The empty sands surrounding the Golden City of Jaisalmer liven up with the brilliant colors, music, and laughter of the Desert Festival. The state of Rajasthan is one of the most popular tourist destinations around the globe and celebrating this festival simply adds magic and charisma.
The tourist authorities organize the Desert Festival around the months of January and February considering huge amount of tourist traffic during this period. This festival provides one an opportunity to experience firsthand the rich Rajasthani culture. Rajasthani men and beautiful women dressed in brilliantly hued attires dance and sing the cadenced saga of past affairs and ballads of valor, romance, and tragedy. Most of the performances are based upon the sagas of the heroes of the medieval era, with others centering on folk lore. One can certainly get enchanted with the amazing and extraordinary performances of traditional musicians, folk performers, snake charmers, and puppeteers.
During this festival, one can also enjoy traditional sport activities, such as camel race, camel dance, camel polo, and other competitions comprising of camels. Camel, the ship and lifeline of the desert, plays the central role in this festival as it is an integral part of Rajasthani lifestyle. Besides camel competitions, one can also enjoy and get enthralled by the moustache and turban tying competition. Both the turban and moustache have been centuries old symbols of pride and honor in the state of Rajasthan. Tourist dances, Mr. Desert competition, turban tying, the competition of best dressed camel, and tug of war are the major attractions of this amazing Desert Festival.
Traditional bazaars and street markets selling traditional souvenirs and other gift items also form a major element of this festival. One also gets an opportunity to meet face-to-face with desert craftsmen and witness the art of preparing various artifacts. One can buy and see exquisitely embroidered skirts, rugs, hand-woven shawls, and camel decorations, carvings on wood and stone, ethic silver jewelry, embroidered leather bags, and terracotta. Another thing which makes this festival such a unique and popular event among travelers is the mouth-watering traditional Rajasthani cuisine, allowing one to taste a variety of ethnic and spicy treats.