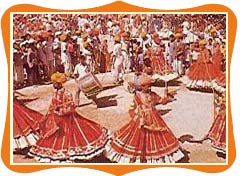 Experience the religious mythology, giving you a deep insight of the gods and goddesses, with the various colorful and extravagant festivals celebrated in Rajasthan. But because of various legends that are sung by bards in the folk lore, the heroic sagas of the kings and warriors have become a vital part of the Rajasthani culture. As such, there are some festivals celebrated to even commemorate the brave deeds of medieval heroes. Marwar Festival, held in the memory of the heroes of Rajasthan, is one such example. The festival is the right time and place to experience Jodhpur's art and culture at its best, held every year in the month of October. This festival, devoted exclusively to the folk dance and music of Marwar, was formerly known as the Maand Festival and is held across two days during the full moon of Sharad Purnima.
Marwar Festival is one of the unique festivals of Rajasthan where you can get a taste of the bygone era of royalty. The main theme behind the festival is to praise the heroes and martyrs of the medieval era. During evenings, various performances are held by folk artists through which they narrate stories from the past heroic sagas. The festival, held during the two days of full moon, adds to the ambiance of this place, as folk artists bring the myths, legend, and folklore of the area to life. The festival is celebrated in the Hindu month of Ashwin (September-October) in Jodhpur, the former capital of Marwar Province. The festival is an ongoing ride of cultural and traditional bonanza during which one is smeared with all the colors of Rajasthani folk arts.
The spirited folk dancers assembled here, perform with gusto and entertain the audience with Rajasthani traditional art forms. A small fete is organized by the state tourism and cultural board wherein a number of craftsmen display their skills, while one can even buy displayed artifacts and craft items. You can find a number of souvenirs displayed at the stalls set up here, known as "Haats". Other attractions of the festival include horse riding and horse polo. Various other competitions are also organized during the festival. The massive Meharangarh Fort and the impressive Umaid Bhawan Palace, symbols of might and valor of the Rajputs, make Jodhpur an ideal location for the festival. The festival celebrates the classical style of folk music centered on the romantic lifestyle of Rajasthan's rulers.